Littlebrook Letting Agency Prides itself on honest family run values.

We offer house rentals in the Whitstable, Faversham, Canterbury and Herne Bay areas in Kent.

In 2015 we have added Holiday Lets and Beach hut lets in Kent.

Whitstable has become very popular with Londoners and beach hut hire on Tankerton slopes is at a premium.

We offer helpful friendly advice with all aspects of property management.
Serviced Areas
Whitstable, Faversham, Canterbury, Herne Bay
Payment Options
Products & Services
Full Property Management (House)
Littlebrook Letting Agency offer a Full management service for just J59 fixed fee.
Social Activity
Fantastic Sea Views Of The Swale And Whitstable Beach : http://t.co/jte66Rqe5x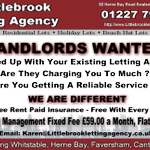 LANDLORDS WANTED, Not happy with your landlord or are they charging you far to much : http://t.co/j8qWrZSLgk http://t.co/XEfzOFp7Cs
Littlebrook Letting agency based in swalecliffe looking for landlords and tenants Tel: 01227791696
Nearest Businesses